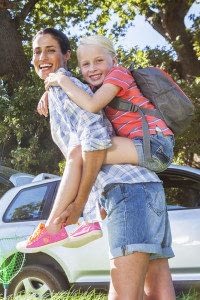 What is Permanent Life Insurance?
Well to explain it simply… it is life insurance you can keep for the remainder of your life as long as you pay your premiums.
Pretty simple right?
Great, now let's discuss the 2 different permanent life insurance policy types which are whole life insurance and universal life insurance policies.
What is Whole Life Insurance?
Whole life insurance, sometimes called permanent life insurance, provides coverage for your entire lifetime. That means your family and beneficiaries are covered for the duration of your life.
Whole life insurance accumulates cash value, too, providing you the option of borrowing against it. It's a financially smart way to help protect yourself and your loved ones. You can even buy a separate policy for children, so they have coverage for their entire lives.
Benefits of Whole Life Insurance
Guaranteed life insurance protection that will not decrease

Guaranteed cash value that can be borrowed to take advantage of future opportunities

Payments guaranteed not to change, regardless of changes in health

Several payment options to choose from

Additional accidental death benefits are included at no charge
Whole Life Insurance Policies for Children
When you purchase whole life insurance for your children (or even grandchildren, nieces or nephews), you're giving a gift that will last a lifetime. It also builds cash value they can use in the future. It gives them guaranteed insurability, so no matter what may happen with their health in the future, they can always keep this protection. Starting early makes sense because the younger the children, the lower the premium and the sooner it starts growing in value.
There are also several amounts and payment options that you can choose from for either the whole life or children's whole life plans. You can customize your life insurance coverage to suit your situation.
What is Universal Life Insurance?
Universal Life Insurance is protection that offers payment flexibility and the ability to adjust the coverage amount over time. It offers low-cost protection like term life insurance and a savings element like whole life insurance. It can help your family financially with immediate cash for funeral expenses or can be used in other ways, such as business situations, to create a charitable gift, or to help generate an inheritance.
Universal life insurance is ideal for:
Income replacement

Estate planning

College expense planning

Inheritance or wealth transfer

Charitable giving

Paying off mortgage or debt

Deferred compensation

Retirement income planning

Business continuation coverage

Key person coverage (for the sudden loss of a key executive or employee)
Have any funds in a Money Market, Savings or Bank CD's (Certificate of Deposit)? Universal Life Policies can be great alternatives to these accounts.
Benefits of Universal Life Insurance
With a universal life insurance policy you can get lots of features, such as:
Payment flexibility and options

Guaranteed level death benefit

Guaranteed interest rate

Policy loans with tax-free income potential

Guaranteed cash value

Optional Long Term Care Rider
The coverage can last your entire life and includes a policy cash value with the convenience of a payment schedule that you determine. You select the payment necessary to accomplish your goals.
Like whole life, the cash value of a universal life insurance can be borrowed against if you need it. The cash value can also simply be withdrawn, avoiding interest expense charges (subject to policy limits). And, your cash value accumulates tax-deferred at competitive interest rates.
The death benefit that is paid to your beneficiaries can be adjusted higher or lower as defined in the policy without having to buy a new contract.
Still not interested? – Ways to use your life insurance while you're still alive
Accelerated Death Benefit

(Automatically Included on Many of Our Policies) –

Pays out a large portion of your policies death benefit if you are diagnosed with a terminally ill and expected to pass within 24 months.

Waiver Of Premium –

With this coverage added to your life policy, insurance companies will normally waive your premium while keeping your policy in force, if you become disabled and meet the qualifications of the waiver.

Children's Term Rider –

Most insurance companies allow you to purchase coverage for children as an add-on to the parent's term policy. This coverage can usually be added in increments of $1,000 for up to $10,000 in total coverage. This rider will cover all children of the insured up to a certain age and then give the child the option to convert it into their own policy.

Long Term Care Rider

(Only available on Universal Life Policies

) –

A long-term care (LTC) rider is an optional add-on to a qualifying life insurance policy that provides financial support if you need hands-on daily care from a nurse or a health aide for long periods of time. This care can be received at your home or in health care facility.
The Client's Insurance Agency offers free, comparative quotes on life insurance from multiple insurance carriers so you can get the best possible rate.
Want to see how much we can save you? Just request a quote to find out.