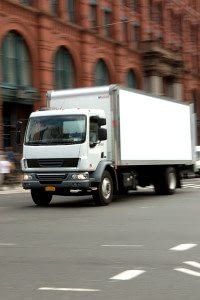 Your vehicles take you, your employees and your products where they need to be. And your business probably couldn't function without them, which makes having commercial auto coverage you can truly count on essential.
How does business auto insurance protect you?
Whether you rely on a single car or a large fleet of vehicles, commercial auto insurance is something that most businesses need. That's because an accident can happen to even the most careful driver—and these accidents can cost thousands or even millions of dollars.
Commercial vehicle insurance for both owned and leased cars and trucks protects your business in many important ways including:

Liability if you're responsible for harming others or for damaging their vehicles or property.

Damages if your car is damaged or destroyed in an accident or by something other than an accident, such as theft, vandalism or hail.

Uninsured/underinsured motorists if an at-fault driver is unable to pay any or all of the costs owed to you.

Medical costs for you or your passengers' injuries.
We are extremely successful when quoting against these companies:
Acuity
Auto Owners
Cincinnati
Employers
Farmers
Liberty Mutual
Nationwide
Progressive
State Auto
State Farm
Travelers
We do extremely well against these companies and actively look for their customers based on the success we have in earning their business.
Industries Our Agency and Insurance Companies Specialize In
Contractor Classes
Auto Services
Restaurants
Manufacturing
Technology
Breweries, Wineries, Distilleries
Why do business with us?
Superior Knowledge
We know commercial – plain and simple. We understand where our companies are most competitive with both coverage and price. We look for the types of businesses that they desire and we know we have the opportunity to offer them a superior product and savings.
Our agency has extensive knowledge in the commercial insurance industry. In the past we have written policies with almost all of the companies we listed as being most competitive against further up the page. Over time it became apparent that we no longer needed access to all of those companies. Being able to offer Erie and The Hartford is more than enough to be able to help businesses find better insurance solutions. If you have one of the companies listed about and you are in one of our target industries, you should call us today, because we have something to offer you.
Superior Insurance Companies
The Commercial Auto Insurance companies we are partnered with including The Hartford, Erie, Progressive, and National General give us the ability to write a very broad variety of commercial vehicles. We have coverage for trucks, cars, vans, food trucks, even coverage for dump trucks and semi-trucks. We also have 2 companies that will write commercial auto insurance for business owners with foreign driver's license. Whatever your business auto insurance needs may be- We can meet them.
Superior Service
Our level of service is second to none- check out our reviews from business owners on Google. We provide certificates of insurance with a same day turnaround- usually within the hour. Consider yourself tech-savvy? We also have an online portal where you can instantly generate certificates if you desire to do so.
Superior Rates & Discounts
If you didn't already know this then let me share an extremely valuable piece of information with you that may help you with your insurance expenses even if you don't do business with us.
Commercial Insurance Rates are not set in stone!
Unlike with personal lines insurance – Commercial Insurance policies can be given a discount based on the characteristics of the risk or applicant. Ask your agent to show you how much of a discount they applied to your account, on all policies- auto, liability, workers' compensation. Etc. If they can't then we'll gladly show you what we are willing to offer you – usually better coverage with a discount!
The Client's Insurance Agency offers free, comparative quotes on commercial auto insurance from multiple insurance carriers so you can get the best possible rate.
Want to see how much we can save you? Just request a quote to find out.